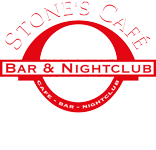 Food Menu
Take a look at our food menu.
Follow us on Instagram and Facebook to stay updated and get the latest info.
Healthy Muesli breakfast | €7.00
Yoghurt with muesli, banana and honey
Omelette | €8.50
Ham and cheese
Stone's toastie | €4.50
Ham and cheese
Extra | €0.50
Onions, tomatoes, pineapple or bacon
English Breakfast | €9.90
Fried eggs, sausages, bacon, tomato and beans
Go for jumbo | +€2.00
Dutch twins | €8.50
2 "van Dobben" meat Croquettes with bread
Egg & Bacon Sandwich | €7.50
Natural | €6.00
Extra | €0,50
Ham, cheese, bacon, apple or pineapple
Stones pancake | €9.00
With blueberries, strawberries, vanilla ice cream and chocolate sauce
Grilled Chicken Sandwich | €7.50
Sweet chilli, jalapenos
+ Bacon | €1.00
Club Sandwich | €9.90
Chicken, bacon, egg, cucumber, lettuce and tomato
Grilled wrap | €8.00
With pulled pork, cucumber, jalapenos and BBQ sauce
Spare ribs | €15.95
With fries and lettuce
Rib Eye Steak | €17.95
with garlic butter
Fish & chips | €13.50
Cod fish, ravigotte sauce, dutch fries and lettuce
Brownie | €7.00
Chocolate muffin with Salted caramel | €8.50
Nachos | €5.00
with guacomole, sour cream and tomato salsa
Nachos cheese | €9.00
with cheese, sour cream, olives, cappers, jalapenos
+ pulled pork | €2.00
Basket of fries | €4.00
bASKET of bREAD | €4.00
With garlic butter
Vegetarian springrolls (10 pcs) | €5.50
Chicken wings | €7.50
New York Chicken mini filets | €7.00
Bitterballen (mini meat croquettes) | €7.00
Bittergarnituur (fried appetizers) | €10.50
the bacon boss | €13.50
Crusty burger bun, mayonaise, cheddar cheese, pickles, caramelised onions, bacon and lettuce
the onion jack | €13.50
Crusty burger bun, fried onion rings, pickles, mayonaise, cheddar cheese and Lettuce
the Chick and cheese | €12.50
Crusty burger bun, chicken filet burger, mayonaise, cheddar cheese, caramelised onions, tomato and lettuce
the viva las vega | €12.50
Crusty burger bun, veggie burger, red onions, pickles, cheddar cheese, tomato and lettuce
Dance, smoke and drink 
We have only contributed to give a little more joy to their lives, memories, laughs and meetings that remain

Harry Kleijn
1 review





Leuke tent. 15 februari 2019 een 1e bezoek gebracht met mijn vriendin en wat vrienden. Verwelkomt door 2 portiers beiden vriendelijk en niet het stereotype portier. maar ook heel strak, hebben een escalatie voorkomen door heel snel op te treden binnen met een vervelende klant die wat mensen lastig viel. Bar mensen waren heel leuk en vriendelijk bediening snel alleen moest alles in het engels opzich geen problemen mee. qwa prijzen is het te doen overal een beetje hetzelfde in het centrum. Muziek was top goede dj leuke sfeer houden zo. Kom zeker nog eens terug.

Chris R.
175 reviews





Prima tentje! Goede locatie, lekkere sfeer en toko waar pretsigaretten en pils gecombineerd mogen worden, top! Enige nadeel is dat er alleen op de deur een mededeling hing dat ze tijdje gesloten waren. Misschien handig om dit voor Niet-Amsterdammers ook online te delen, aangezien dit zeker onderdeel is van een bezoekje aan Amsterdam!

Dave Crader
45 reviews





Loved this place! The sound system is great. Different DJs each night. A little heavy on the Latin music on Monday but the DJ on Sunday was really good. Staff is very friendly. Bartenders are quick. Prices are pretty good. On Sunday I'm pretty sure I was paying 5 euro for a Heineken and then on Monday it changed to 6.50... or maybe i was just drunk. I don't know. Whatever. Security at the door is cool. Tip them.

Adam Greenlee
133 reviews





One of the best bars for people watching as you're in the heart of the Red Lights district. The staff are also incredibly friendly and their beer selection isn't bad either.

Hydro2oo9
8 reviews





This is a great place to chill out(as is their other place across the road) and chill out smoking a few spliffs while having a drink. The bar staff are great too.

Owen Slattery
7 reviews





Friendly staff and good music made it a great place to have a smoke. There are tables and chairs out the back which was a great place to sit to watch world go by.